Iran Wc 2018 Kitsempty Spaces The Blog
Posted : admin On

8/23/2021
They use new kits Adidas on U-20 FIFA World Cup 2017. Write something about yourself. No need to be fancy, just an overview. All Adidas Afcon Caf Emptyspaceskits. RSS Feed Powered by Create your own unique website with customizable templates. So without any further ado, here are the "winners" of the 2018 World Cup of Malware, based on data pulled just this week: The United States didn't even qualify for the actual World Cup, but traffic from IP addresses in the U.S. Came in first followed by the Netherlands, France, Iran, Italy and former #1 seed Russia. That concludes our coverage of the Group C match between Australia and Peru from the 2018 World Cup in Russia. We hope you enjoyed the commentary.
The 2018 World Cup had some brilliant moments, but what did our correspondents on the ground in Russia think of the tournament? Here we run through some of the best and worst.
Best game
OGDEN: Nigeria 1-2 Argentina: This was win-or-bust for Argentina in St. Petersburg, but it felt as though the whole nation turned up for this game, with 60,000 fans backing Lionel Messi and his teammates in the stadium. Messi scored a wonder goal, and then Marcos Rojo sealed victory with a dramatic late winner, followed by Diego Maradona's unfiltered celebration. A game that had everything.
MARCOTTI: Spain 3-3 Portugal: What a way to begin the tournament! Spain shook off the Julen Lopetegui affair and played arguably the best football they played in the tournament. Diego Costa scored the most Diego Costa-ish goal he'll ever score. But that was overshadowed by Cristiano Ronaldo's hat trick and buzzer-beating heroics. It was the sort of script that Ronaldo might have written for himself prematch, and then acted out on the pitch.
AMES: France 4-3 Argentina: It was a thrilling, seesawing affair with some fine goals and the emergence of Kylian Mbappe on the international stage -- all while Messi tried in vain to spur on a poor Albiceleste side. The subplots were many and the action compelling.
World Cup 2018 must-reads
- World Cup fixtures, results and coverage
- Marcotti: France won fitting finale to the World Cup
- Ogden: Mbappe showed why he is football's future king
- Ames: Croatia must make this World Cup a beginning
- Project Russia: Allez les Bleus!
- Ogden: Hazard's reputation, value has never been higher
- ESPN FC TV: Scary how ambiguous handball rule is
Worst game
OGDEN: France 0-0 Denmark: It has been such a great World Cup that this is a tough category to find answer for, but the goalless draw between France and Denmark at the end of the group stage was perhaps the only forgettable game of Russia 2018.
MARCOTTI: France 0-0 Denmark; England vs. Belgium: At the risk of being unimaginative, I'd agree, this was pretty dire (and, unlike Ogden, I had to sit through it in the stadium.) But in this World Cup any game with nothing at stake felt like it didn't belong. Which is why I'd add the two Belgium vs. England matches, too.
AMES: Uruguay 1-0 Egypt: If it had not been my first game of the tournament, with the excitement that comes with it, then I doubt I would be looking back very fondly on Uruguay vs. Egypt -- even with the late Uruguay winner. From then on, there was hardly a bad note.
Best quote
OGDEN: 'This is a historic game not just for the 13 or 14 players and the squad but also for everybody who is a Croat. There will be 4.5 million players on the pitch.' -- Ivan Rakitic sums up what reaching the World Cup final means to Croatia.
MARCOTTI: 'I am not partially responsible. I am totally responsible. It's all me.' -- Argentina boss Jorge Sampaoli takes it on the chin after the Croatia game and the goalkeeping howlers. Then again, he didn't really need to say that -- everybody was going to blame him regardless.
AMES: 'I will say: 'Have fun, guys.' -- Croatia coach Zlatko Dalic on his last words before his team's historic final.
Best performance
OGDEN: Croatia vs. Argentina -- This was the game that made everyone take notice of Croatia as a real threat at this World Cup. It was a 3-0 destruction of Argentina in Nizhny Novgorod and the best display by any team in the group stage.
MARCOTTI: Brazil vs. Serbia -- Brazil played like a club side in stretches, which is probably as high a compliment as you can pay a team in a World Cup. They were tactically cohesive, they worked for each other, they had chemistry and they had purpose. Oh, and Neymar's behavior -- other than the interminable roll by the sideline, incessantly lampooned in a million GIFs -- was impeccable.
AMES: Belgium's first half against Brazil -- A scintillating counterattacking performance that ripped to pieces a previously watertight defence, it will live long in the memory.
Best use of VAR
OGDEN: South Korea's first goal against Germany. Originally given as offside, the VAR spotted that the final ball came from a German defender, ensuring that Kim Young-Gwon's goal was allowed to stand. Had it been ruled out, the Germans could have sneaked a late winner and avoided elimination.
MARCOTTI: Totally agree. There were just so many components to it. And as for the complaint that VAR robs players of the spontaneity of celebrating a goal, the folks I was with celebrated three times: first when the goal went in, then when they saw the replays and it became clear it was going to be allowed to stand, and then finally when the referee confirmed it was a goal.
AMES: Much as it was unfortunate for Morocco, the decision that allowed Iago Aspas to equalise for Spain in their group game would not have been possible without VAR, and it was the right call.
Most surprising moment
OGDEN: The flies in Volgograd. We were warned about hooligans, racism, hacking and all kinds of unsavory elements in Russia before the tournament, but it turned out that the only danger were the flies in Volgograd, which were a permanent swarm in and around your face.
MARCOTTI: It has to be Luis Rubiales flying to Krasnodar to fire Julen Lopetegui on the eve of the tournament. I am definitely in the minority in believing he did the right thing, but from Real Madrid's announcement to the firing to Florentino Perez's news conference in Spain a few days later, it was the last thing I expected.
AMES: It came as a jolt to see Japan, who had seemed the weakest team in the round of 16, go 2-0 up against Belgium. Even though it did not last, the way they lost the game -- by trying to win it despite being pegged back and out on their feet -- was pretty noteworthy too.
Best fans
OGDEN: Argentina supporters were magnificent and drove their team on to victory against Nigeria, but the Peruvians were the ones who topped the bill in Russia. To see them fill the stadium in Ekaterinburg against France was incredible. Such passion and cheerfulness, but also every generation of fan, with young families through couples in their 70s.
MARCOTTI: The way Panama fans celebrated Felipe Baloy's goal with their country 6-0 down is something I'll never forget. But, truth be told, they were spectacular before the game, during the game and after. They won their World Cup. If I can give an honorable mention, it's to the Sweden fans who chanted Janne Andersson's name for a full half-hour after their victory over Switzerland and only stopped when he came back out to salute them.
AMES: Collectively, the Latin American countries' supporters contributed so much to making this the party it was -- particularly before the quarterfinals. The Peruvians and Colombians were particularly bright, vibrant and numerous: the sight and sound of a stadium packed with noisy Peru fans for what was, to them, a dead game against Australia took the breath away.
Best food you ate
OGDEN: You can't get a bad steak in Russia. From Volgograd to Moscow to St. Petersburg, they know how to cook a steak.
MARCOTTI: The rooftop terrace at Mushrooms, a block from our apartment, became a de facto canteen. But the most memorable is probably the lancetfish I had in St. Petersburg. I had no idea such a thing existed. I know now.
AMES: Russia is always feted for its Georgian cuisine, and while I had definitely had my fill of it by the end, the glowing reviews are certainly accurate. Puri, in Samara, proved a particularly excellent venue. Salted Siberian fish in Moscow on the eve of the final were also a highlight.
Worst food
OGDEN: Breakfasts have been a challenge, with rice, chicken wings, cauliflower and pasta often offered in hotels, but nothing can top the pink sausages at Volgograd Airport.
MARCOTTI: I saw a guy order a slice of what was billed as margherita pizza at the stadium media center in Sochi. And then he doused it in ketchup. Enough said.
AMES: The one thing I will not miss about this tournament is the fare on offer in FIFA media centres, which made school dinners look like lovingly composed culinary creations. Being told I was 'not allowed' to have fish with my pasta in Kazan, regardless of my willingness to pay for it, was one of the month's more baffling experiences.
Worst journey
OGDEN: Every Uber taken after dark in Moscow, when the city's roads turn into the Le Mans racetrack, only with the vehicles lacking the basic safety elements of cars designed to move at 200 mph.
MARCOTTI: Haven't really had any really bad ones, although the guy sitting next to me on a flight from Nizhny Novgorod to Moscow who fell asleep and drooled over his shirt was rather gross.
AMES: I became intimately acquainted with the six-hour road hop from Kazan to Samara (and vice versa), and the journeys were generally uneventful except arguably the most important -- to see England vs. Sweden in the quarterfinal. Eight of us hired a minibus for the trip; the driver arrived almost an hour and a half late after somehow failing to locate our apartment right by the stadium. His satnav subsequently stopped working, and, even worse, he admitted he had no idea of the route. We blundered our way through, but for a time the prospects of making kickoff looked sketchy.
Biggest disappointment
OGDEN: The lack of European supporters. South Americans, Iranians and Africans descended on Russia this past month in huge numbers, but there was a surprisingly small number of Europeans. Perhaps pre-tournament negativity about Russia put many off, but they missed a great party.
MARCOTTI: The fans -- not many, but more than enough -- who didn't return to their seats until a good 10 minutes into the second half of the Russia vs. Croatia quarterfinal in Sochi. They missed a chunk of a hugely tense game and Russia's biggest in decades. And I suspect that unlike the Russian fans in the cheap seats, these folks were there more to be seen than to see (a football match.)
AMES: The Eurocentric last eight. The games themselves were excellent, but when the dust has settled, it will be important to ask what is going wrong for teams on the other continents.
Best bit of Russian hospitality
OGDEN: A colleague who lost his phone in Volgograd was reunited with it after friendly locals tracked it down. It involved Facebook, online searching and some good detective work, but they found it nonetheless. All for an unknown stranger in a foreign country.
MARCOTTI: The guy running the outdoor bar/shashlik place in Sochi who reopened for us, lit up the grill and ate with us. And happily shared his local moonshine too.
AMES: There is not one that stands out -- the entire month has gone smoothly and pleasantly and has hopefully opened a lot of eyes to this country's warmth.
Favourite stadium
OGDEN: The St. Petersburg Stadium. A world-class stadium in a world-class city -- please can we have a Champions League final there soon?
MARCOTTI: Everything about the St. Petersburg Stadium is surreal. From the pedestrian bridge, to the water on three sides, to the Gazprom tower to looking out over the water and seeing (or imagining) Finland. An absolute gem.
AMES: The Luzhniki is a proper, world-class stadium with a genuine sense of history. It was fit for a World Cup final, but I also liked the close-knit, club-style Spartak Stadium, where a seat in the front row of the press box brought you almost to the side of the pitch.
Favourite thing you saw in Russia
OGDEN: The Motherland Calls statue in Volgograd. Words and pictures simply cannot do it justice -- it was huge.
MARCOTTI: The sculpture museum next to Gorky Park. Wandering around it on a sunny day did make you feel like you were somewhere else. And as great as this World Cup was, you needed that once in a while.
AMES: The simple joy and camaraderie that developed between thousands of locals and visiting fans. This was such a new, special and important thing for many Russians, particularly in the more distant cities, and the response suspended any kind of cynicism one had held befroe the tournament. Russia has never seen anything like this and will be the better for it.
Team you wish had not exited at the group stage
OGDEN: Iran. They came so close against Portugal in their final group game, and although many of their fans stayed on in Russia regardless, it would have been great to see them at another game.
MARCOTTI: Morocco. They played some exceptional football and were pretty much hugely unlucky in each of their three games. Plus, Herve Renard would have been fun to have around.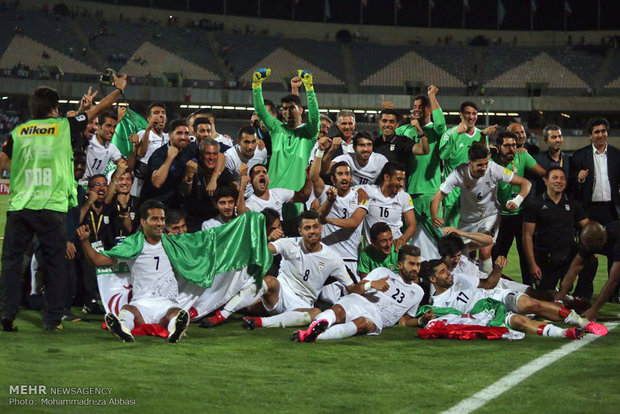 Iran Wc 2018 Kitsempty Spaces The Blog 2017
AMES: Peru. They had plenty of rough edges but played such exciting, fresh attacking football, and if Christian Cueva had not missed that penalty against Denmark, it could all have been so different.
Best team to not reach the semifinals?
OGDEN: Uruguay. If Edinson Cavani had been fit to face France in the quarterfinals, they could have gone all the way.
MARCOTTI: Brazil. Possibly the best team in the tournament.
AMES: Uruguay might have fancied their chances if Cavani had been fit to face France -- and, in any case, can feel unfortunate not to have had an easier draw.
Favourite underdog (outside Croatia)
OGDEN: England. Nobody really expected the semifinals, did they?
MARCOTTI: Japan. Just kept coming, and for 68 minutes they had Belgium's number.
AMES: Russia gave us all kinds of fun from virtually the first whistle -- playing with a freshness that stunned everyone and showing admirable tactical nous to stifle Spain, too. They came agonisingly close to a semifinal with England, and their unexpected success was a welcome boost for the tournament.
Player who surprised you
OGDEN: Benjamin Pavard. At 22, the French full-back has been exceptional, also scoring one of the goals of the tournament against Argentina. Don't expect him to be at Stuttgart for long.
MARCOTTI: Hirving 'Chucky' Lozano. I knew he was fast. I didn't realise how composed he could also be under pressure.
AMES: I knew Denis Cheryshev perfectly well, but I certainly could not have predicted the impact -- and spectacular goals -- he produced for Russia. Nor could any Russians, in fairness.
What went wrong with Germany?
OGDEN: Fear, or a lack of it. Their opponents played them without fear, and they reaped the rewards.
Iran Wc 2018 Kitsempty Spaces The Blog Template
MARCOTTI: Too many egos, which Joachim Low struggled to handle, but mostly too much second-guessing on the part of the manager.
AMES: The principles that made them such a coherent, compelling team in the past went out of the window -- and the integration of a brilliant new generation was not conducted as smoothly as expected.
What will Qatar have to do to make 2022 good?
Iran Wc 2018 Kitsempty Spaces The Blog Example
OGDEN: Ensure that more fans travel from every corner of the globe. Russia was let down by negative stereotyping before this World Cup, and it led to some fans not attending the tournament, so Qatar must ensure that it wins the PR battle and sells itself as a place for all fans to enjoy and feel safe.
MARCOTTI: It will be a totally different experience to Russia because it's a totally different country. But I think if they are welcoming, cut through the red tape and leave as much space for spontaneity as possible, they'll be just fine.
AMES Krishna flute hd audio hu hu hu huu. : Offer co-hosting rights to neighbouring countries so that the World Cup can feel, at least in some way, like a genuine occasion for travel and cultural exchange rather than the smothering plaything of a tiny petrostate.
Will we see Messi and Ronaldo in Qatar? And will they be any good?
OGDEN: Messi, no; Ronaldo, yes. At 37, Ronaldo will probably be as immobile as the World Cup trophy, but he'll still have a goal in him.
Iran Wc 2018 Kitsempty Spaces The Blog Free
MARCOTTI: Yes and yes. Come on now, be reasonable. They operate on a different plane.
AMES: No chance of Messi, who will surely retire from international football now, but you would not rule out Ronaldo -- who would doubtless come up with one memorable cameo.